Stations
Slave Keypad

The Slave Keypad expands the total number of keypads allowed on the Vantage system. A Vantage Master Controller can address a maximum of fifty keypad stations.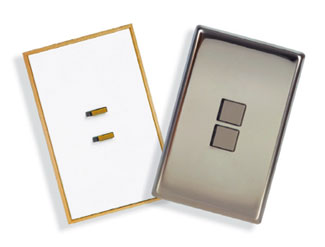 However, if further keypads are needed, the Slave Keypads can be used to add one or two additional buttons by simply connecting to a Vantage keypad station. The keypad is ideal for areas where only a few buttons are needed such as bathrooms, closets, storage rooms, and pool rooms.

Slave Keypads are available in multiple styles and colors to enhance the décor of almost any room. The keypads come in one or two button configurations and feature red LED lights to indicate the status of the accompanying buttons.
Key features:
Expands the number of control points on a Vantage system but does not count as a station towards the fifty station maximum per Master Controller
Provides control to areas where only a few buttons are needed, such as bathrooms, closets, storage rooms, and more
Accepts normal keypad station programming
Looks, feels, and responds like a normal keypad station for system uniformity
Responds instantly to button presses regardless of the system size
Includes a red status LED with adjustable brightness levels